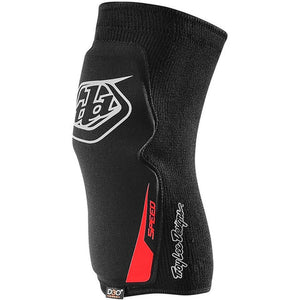 Product details
The TLD Speed Knee Sleeves use 4mm thick D3O protection to provide ultra-lightweight knee protection that won't slow you down.
Silicone grippers hold the sleeves firmly in place while the seamless construction ensures maximum comfort.
Key Features
D3O® 4mm ultra-lightweight and flexible knee pad
Silicone grippers prevent slipping
360° seamless construction for all-day riding comfort
Durable, abrasion-resistant knee panel
Reflective logos
1x Pair
Available in 3 sizes XS/S, M/L, XL/XXL
Fitting instructions TLD Speed Knee Sleeves
Take measurements 10 cm above the knee CENTER for Lower Thigh measurement and 15 cm below knee CENTER for Calf measurement. Measurements should fall into one of the following size categories:
| | | | |
| --- | --- | --- | --- |
| Speed Knee Sleeve Size | XS/S | M/L | XL/XXL |
| Lower Thigh | 34.5-39.5cm | 39.5-44.5cm | 44.5-49.5cm |
| Calf | 32-37cm | 37-42cm | 42-47cm |
| Rider Weight (lbs) | 70-140 | 140-180 | 180-220 |
| Rider Weight (kg) | 32-63 | 63-82 | 82-100 |
The Speed Knee Sleeve should not be loose in any area. Make sure there are no gaps between pad and leg, and the openings are snug. The kneepad foam padding shall be placed directly over the kneecap
Cleaning Instructions
Hand wash cold only. Do not dry clean or bleach. Drip dry. Do not clean your protective gear with anything but soap and water. Do not use any abrasive cleaners or pads. Do not use hot water or chemical cleaners or any solvents which contain petroleum-based products like benzene or gasoline on your protective gear. Your protective gear can be weakened by these substances and may not provide its intended protection in an accident, which can result in serious injury or death. Do not use hair dryers or heaters to dry your protective gear.