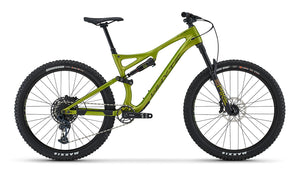 CONTACT US FOR SHIPPING! 020 8527 1592
Riding like the mountain bike love child of a monster truck and an F1 car, our award-winning mid-travel trail bike has rewritten the rules on what 27.5in wheels and 135mm of rear suspension can do. Whether you're tackling techy trails or smashing out the miles on big rides, you can ride confidently and have a blast no matter where or how you ride.
Full-on fast and fun, the T-140C R's lightweight carbon fibre front end boosts acceleration and accuracy for exhilarating responsiveness up any gradient, around every feature and out of every corner, while 140mm front travel with 135mm rear travel delivers you the ideal balance of rough terrain capability and control together with 'ride all day' efficiency and traction.
Our switchable Shape.It link also means you can adjust the geometry from its stock high setting to low to slacken the head angle out by 0.6º and reduce the bottom bracket height by 8mm for a more aggressive, gravity-focused ride character.
We've also tuned the T-140C R's wide rim and tyre combination to engineer a ride that gives you greater grip, compliance and control when riding rough or technical terrain: 27.5in x 2.6in tyres have a rolling diameter like some smaller 29in tyres but, due to the wider and larger diameter of them, when paired with a wide rim (35mm internal width) the large air volume lets you run lower tyre pressures and significantly increase the compliance of your ride – perfect for keeping things cool, calm and collected on square-edged hits, as well as on traction-lite and off-camber sections for confident control and fun on every ride.