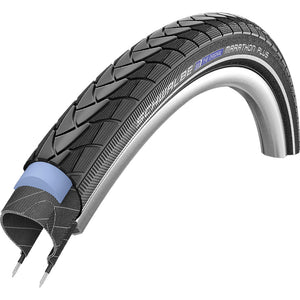 Marathon Plus SmartGuard
The Flat-less tyre. Schwalbe's best selling model. The most puncture resistant pneumatic tyre there is. In addition to the superior puncture protection it features many inner values:
ROLLING RESISTANCE: The patented, 5 mm thick SmartGuard layer, when compared to all generic products, has a significant advantage in rolling resistance.
RECYCLING: Also in the SmartGuard, we use a proportion of recycled rubber from old latex products.
ANTI-AGING SIDE WALL: It now lasts much longer before developing unsightly cracks.
E-BIKE READY: Due to its great properties Marathon Plus is the best choice for E-Bikes (E-25). The main sizes are approved and tested for E-bikes up to 50 km/h
Features:
PROTECTION: SmartGuard Flat-Less - the most effective level of protection, a belt of 5mm thick, flexible India rubber, partially made from recycled material. Protects even against thumb-tacks
SIDEWALLS: TwinSkin which is an additional rubber coating to protect against cuts
COMPOUND: Endurance compound specific to Marathon tyres for maximum durability
TPI: All Versions 67 TPI
WEIGHT 700x25c 595g / 700x28c 750g / 700x32c 810g / 700x35c 900g / 700x38c 960g
WEIGHT 26: 26x2.35 775g / 26x1.50 870g / 26x1.75 995g / 26x2.00 1100g
WEIGHT 27.5x1.50 920g
16x1.35 - 480g
20x1.35 - 560g / 20x1.75 725g
24x1 3/4 - 850g / 24x1.75 - 920g
650c x 35a - 850g / 650c x 40a - 940g