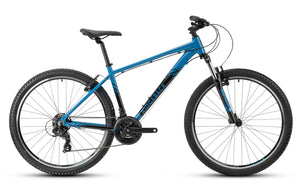 The Ridgeback Terrain 2 mountain bike is perfect for your first off road adventures.
The wide range of 21 Shimano gears provide high quality shifting and allowing you to climb steep hills with ease.
The suspension fork deals with lumps and bumps on the trail, knobbly tyres are designed to work well in all off-road conditions and V-brakes give good stopping power.