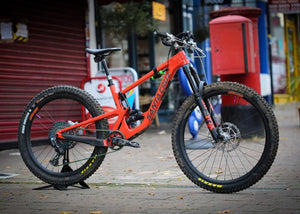 Santacruz Hightower Carbon C frame ONLY

Designed to run 29 but also 27.5+ 2.8 rear as a mullet

Amazing frame great condition very few minior marks

Headbadge will be replaced, was one ride with a bar bag on a muddy day (never again).

Fantastic frame for literally most types of riding probably the most versatile bike I've road to date especially with the capability of running it mullet!

Sorry for the photos frame will be cleaned before sale!