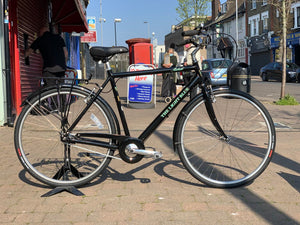 Heales Cycles Bicycle Hire/Rental Agreement
Full Name:
Collection Location: Heales Cycles
Contact number:
Payment method for hire deposit:                           Deposit Value:                  Total Paid:
(full payment of bicycles/equipment will be made on collection and photo ID will be required to validate your card.)
Date of hire: ……/……/…………          Return Date: ……/……/…………
Number of days hired:  1 / 2 / 3 / 4 / 5 / 6 / 7   (More in Days                  )
Days Overdue:
Quantity:
Bike numbers:
Model and size:
Staff Member:
I agree to demo/hire the above bicycle in accordance with the T&C's of hire. I also agree that I accept the total responsibility for the safe custody of the bicycle during the period on hire against any loss or damage and agree to return it within the specified time and date. Any Charges for loss, damage, punctures, or service requirements (including cleaning fees) can be charged to my card below.
Customer signature:
Date:
Inspection on return yes/no:
Clean:
Punctures:
Wheels:
Components:
Damage:
Additional charges incurred: £
Notes:
Hire bikes terms and conditions:
To ensure you know exactly what our and your responsibilities are, please read the following terms and conditions carefully.
Cycle hire/demo is operated on a first come first serve basis. We accept payment by credit card or debit card. Deposit Payment is taken at the time of the booking the bicycle(s).
We will require the following deposits:
| | | |
| --- | --- | --- |
| Bike | Deposit For Booking Value | Final Deposit Method |
| Basic Single Speed | £ | Bike value Payment in Full, Hire Deducted on Return. Bike Value £399 |
| Basic Hybrid | £ | Bike value Payment in Full, Hire Deducted on Return. Bike Value £549 |
|   | £ |   |
|   | £ |   |
|   | £ |   |
With all hire agreements we will take a Photocopy of your card with a valid photo id                                                                                                                                                                                                                                                                                                                                                                                                  and this will be shredded or returned to you on return of the bicycles(s)
We reserve the right to request the bicycle(s) to be returned by the due date. Failure to do so may result in your full deposit/payment being withheld permanently.
Bicycles must be returned during our opening time on the day they are due, or an additional day will be charged for each day's late return.
Our opening hours are 9am-5pm Monday to Saturday. Bicycles must be returned to the store of hire during respective opening hours.
You herby confirm that you are taking responsibility for the cost of any damage (including third party) caused as a consequence of:
Any dangerous cycling
Loss of control or negligence
Misuse of the bicycle
We will charge for any loss or damage, including punctures or service/repair requirements as follows, this list is not exhaustive:
Loss of lock £
Loss of helmet £
Loss of key £
Bike clean- this is if the bike is excessively dirty.
Lost/Stolen Bicycles will Charged at the following capped amounts:
Single Speed £429.00
Basic Hybrid £599.00
Helmets are not compulsory on Britain's roads; however recommend that you wear one.
We cannot be held responsible for any damage or injuries incurred as a result of customers not wearing a helmet. Cyclists are expected to follow the highway code and any other cycling code applicable.
We can reserve the rights of the bicycle and not provide the bicycle for whatever reasons in the interest of safety.
You are permitted to cycle carefully and sensibly at all times and not to undertake any manoeuvres which are beyond your level of skill or beyond the design purposes of the bicycle provided.
You are responsible for the safekeeping and care of the bicycle and any accessories provided, which remains the property of Heales Cycles Ltd. You are also responsible for ensuring that the bicycle is securely locked to an immovable object when left unattended.
You agree to notify us and pay for any loss or damage arising from any act or default on your part, against claims of injury to any third party or yourself.
By hiring/demoing one of our bicycles from Heales Cycles Ltd, you are acknowledging that you have read our terms and conditions and agree to be bound by them.
Heales Cycles Ltd, 477 Hale End Road, Highams Park, London E4 9PT 0208 527 1592